Talking about beauty is much more than talking about products or aesthetics – ea Intua Beauty It is a brand that hardly understands how it embraces or integral and holistic beauty concept. for them, well-being and self-care must be built from the inside outin synchrony between body, mind, essence and nature.
This month the brand completes a year of operation in the market. Maaas, his story is much longer than it is. Foram 4 years for its creation, between investigations, studies and analysis of results. Além disso, it is important to note that Intua was raised within the Herbarium business ecosystem – Pharmaceutical industry that has been operating for more than 37 years and is a reference in phytotherapy worldwide.
How about an Intua Beauty discount coupon to test the products of the brand?
Yes! Now we have um Intua Beauty discount coupon just us, or MAINA15 He is worth 15% discount on all purchases on the Intua site. Bom demas, ne? An excellent opportunity to get to know and test some of the brand's products – in addition to stocking up on two of your favorites, of course…
INTUA BEAUTY DISCOUNT COUPON: MAINA15

WWW.INTUABEAUTY.COM.BR
The Intua portfolio has beauty and care solutions that synchronize routine and well-being – always with a focus on scientific rigor and balance between body, mind and essence.
There are only 12 high performance items separated into 4 categories:
Nutricosmetics:
Skincare:
Infusions:
Aromatherapy:
It is also super valid to reinforce that Intua is vegan, cruelty–free and its formulas are clean, created from a mix between natural ingredients, scientific rigor and technology.
I have already tried two skincare items from them and among my favorites are the Soft Focus Serum, the Desinchaço Balm – both focused on the eye region – and the Repairing Nourishing Cream.
But now, including recently or Intua Beauty Firming Facial Serum My daytime care routine with skin – and simply AMEI!! It is indicated for both normal and mixed skins, as well as for the most oily and minha. Its texture is light, leaving the skin velvety, more bem sequinha, you know? Oh, and it still works to be used before make. Just praise!
So I want to know a few more about its formula, how to use it and the differences?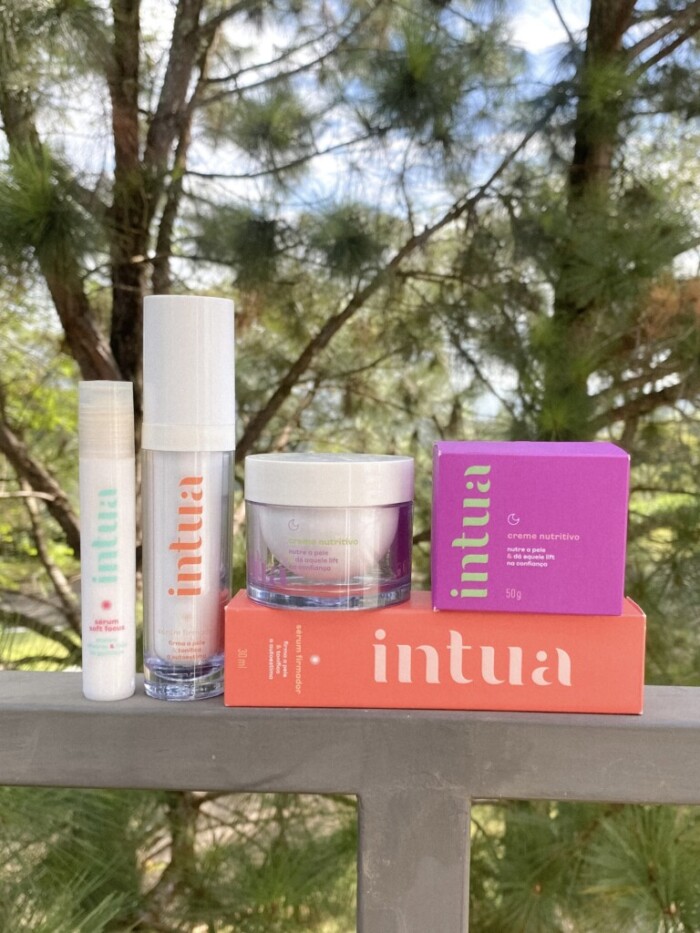 Intua Beauty Firming Serum: formula assets, differences and benefits
EITHER Intua Beauty Firming Serum It is a skincare product that, like the other items of the brand, Promotes beauty and self-care from the inside out. The idea is that your skin is not only visually and instantly beautiful, but that the product provides long-term benefits.
He leaves us with the prettiest skin, yes, of course. But it's not just that! It also hydrates, treats and protects from external factors such as urban pollution and high exposure to blue light. It is a combo of benefits itself!
TO The formula of the Intua Beauty Firming Serum is clean, with 90% ingredients of natural origin – as well as a technological boost that makes all the difference when it comes to real and effective results.
Among its benefits I highlight:
signing action;
Increase in the elasticity of the skin;
Toning action;
Reduction of the flaccidity of the skin of the face, neck and fish;
Skin protection against blue light from cell phone fabrics, notebooks and other electronic devices;
Protection against urban pollution;
Pre-filling of rugas and fine lines.
Before launching the Firming Serum, Intua Beauty carried out research and clinical studies to verify its benefits and understand the acceptance of the product by the public.
Acho valid to divide um desses studies with vocês. It was made with 30 women, between 36 and 59 years old. All of them will use the product for 30 days, applying once a day, always in the morning period.
These form the results:
50% of the participants will observe that the appearance of the skin is better in 10 days.
93% of women felt that the skin was softer and more hydrated after use.
90% will feel more illuminated skin.
83% would notice a visual improvement that gives firmness to the skin.
77% felt a visual reduction in the lines of expression of the face. 73% notaram or firmer face contour.
68% would notice the skin was firmer and more elastic.
The Intua Beauty Firming Serum is dermatologically tested, hypoallergenic and ideal for normal, mixed or oily skin.
COMPOSITION OF INTUA BEAUTY SIGNING SERUM

Water, nicotinamide, silica, glycerol, propanediol, dodecane, sodium ascorbiol phosphate, xylityl sesquicaprylate, sodium amide polyacrylate, xanthan gum, xylityl phosphate, Elaeis guineensis oil, Gossypium herbaceum L. seed oil, saccharide isomerate, fragrance , tara gum, Rosa rubiginosa seed oil, bisabolol, Bidens pilosa extract, xylitol, Linum usitatissimum seed oil, Physalis angulata extract, dextroalphatocopherol, lecithin, escin, beta-sitosterol, acetylated sodium hyaluronate, sodium hyaluronate , hydrolyzed sodium hyaluronate, cross-polymer sodium hyaluronate, hyaluronic acid, silanetriol, Vitis vinifera L. seed extract, Camellia sinensis leaf extract, Quercus robur wood/husk extract, biossaccharide gum, sodium benzoate, sorbate Potassium, Capric/Caprylic Triglyceride, Dibutyl Adipate, Citric Acid, Anhydrous Xylitol, Soybean Oil, Pentaerythrityl Tetra-dibutyl Hydroxyhydrocinnamate, Pentyl lenoglycol, hexanediol, aminomethylpropanol, sodium citrate, ethylhexylglycerin.
The formula of the Intua Facial Firming Serum contains highly absorbed hyaluronic acid combined with organic silicon and the picão-preto plant extract. Together these three active ingredients potentiate the production of collagen and elastin, guaranteeing the prevention of wrinkles and the recovery of the supporting fibers of the skin.
Another weight active in this composition is niacinamide, which promotes a Even hydration, leaving the skin more viçosa, soft and soft.
Second to the brand, among the main active ingredients of this serum are:
Bidens pilosa (picão-preto) extract: Active that promotes or stimulates the synthesis of collagen and elastin. Two of you are responsible for hair that prevents wrinkles and improves the firmness of the skin.
Hyaluronic acid: Of low molecular weight and high penetrating power in the skin, this component acts as a stimulus for the production of collagen and reduction of two signs of premature aging.
organic silicon: It acts on cell regeneration and does not stimulate the synthesis of the supporting fibers that help to maintain the firmness of the skin.
Niacinamide (vitamin B3): Powerful active ingredient that evens out the skin, softens expression lines, increases elasticity and guarantees a hydration boost. Also disso, it works in reducing the discoloration of the skin caused by the blue light emitted by the fabrics of cell phones and computers.
Grape seed extract, chá verde and madeira de carvalho: active ingredients that possess antioxidant action and favor cell protection against oxidative damage generated by blue light.
Biosaccharide gum-4: It is a high molecular weight polysaccharide, obtained by biotechnology, which has the ability to form a film on the skin's surface. Age as a barrier against the stresses caused by atmospheric pollution, UV and domestic radiation, involving chemical agents, and likewise limits the damage caused extra and intracellularly.
How to use and where to buy the Firming Serum for the Face from Intua Beauty:
The brand indicates to use the Firming Serum once a day, for manhã, na pele já limpinha. It's worth using, besides the face, I don't fish and I don't wear it too.
Two pumps are enough to apply in all these areas. Afterwards, just massage the skin to absorb your tudinho. Aah, and if you feel the need throughout the day, you can reapply it. I just don't want to use a sunscreen if I leave the house, okay?
On the site of Intua it is possible to buy not just the signing serum, but all the categories and products of the brand.
And he doesn't know how to use our quotahey?
WWW.INTUABEAUTY.COM.BR

INTUA BEAUTY DISCOUNT COUPON: MAINA15
Mainá Belli
Also follow me on the social networks:
INSTAGRAM | MIDSIZE LOOKS | PINTEREST